"I AM, THEREFORE I THINK"
After retiring from 24 years in the Canadian military as a Special Forces Navy Bomb Disposal Diver, I have travelled from "Bombs to Beliefs" by learning how to dismantle, diffuse, dispose, detonate, and disrupt the unprocessed emotional bombs stuck within myself. By sharing this method of understanding and application that continues to help me, it can help others clear their vexations and live well.
My findings show our connection to nature. And how we choose to participate with it is up to each of us. I believe there is a simplicity to life and a path to peace of mind, but WARNING, there might be a little bit of work involved! Yet when one truly commits, the path is relatively short. The accomplishment of any goal is assured the moment we commit ourselves. Don't take my word for it, it's only My Besh Guess!
Due to my high energy and sincere enthusiasm for life, I spend my time helping people get certain about themselves through coffee dates, public speaking and facilitating workshops. Otherwise, you can find me sawing a triangle in the ice, enjoying a dip in my frozen pond or in the Atlantic Ocean in Holyrood, Newfoundland, and hanging out with my artist bride, Keli-Ann.
My Besh Guess (2006 – Present)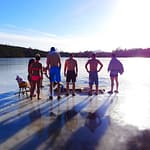 Cold Adaptive Training (2006 – Present)
Daily dip/cold exposure
Wim Hof Instructor (2019-2020)
Wim Hof Ambassador
Keli-Ann Pye-Beshara Art (2002 – Present)
Entertainment chairman, art muse & photographer
Besh Knives Inc. (2000 – Present)
Owner, custom knifemaker & international knife/tool designer
Inventor of the Besh Wedge – strongest knife tip in the world
Canadian Military (24 years) – Retired 2007
Princess Patricia's Canadian Light Infantry ('83-89)

Cyprus Peacekeeping Tour '89

Navy Clearance Diver ( Bomb Disposal Diver) 18 yrs ('89-'07)
Canadian National EOD School Instructor 5 yrs ('02-'07)
Bomb Disposal Operator 14 yrs ('93-'07)
Canadian Chapter Director for the International Association of Bomb Techs and Investigators (I.A.B.T.I.)
Special Forces Commando (JTF2) 5 yrs
Photographer
I love to stalk the moment and capture it.
Drummer
I'll play with anyone, anywhere, anytime, with anything. Preferably for money, but not necessarily 😉